Simone Pisana, PhD, PEng, SMIEEE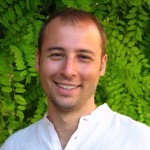 Simone Pisana received his B.A.Sc. in Engineering Science and M.A.Sc. (Hons) in Electrical Engineering from the University of Toronto in 2002 and 2004, respectively. He then continued his graduate studies at the University of Cambridge, where he received his Ph.D. degree in Engineering in 2008. His graduate studies focused on electronic properties of amorphous semiconductors and novel nanostructured materials such as carbon nanotubes, semiconducting nanowires, and graphene. In 2008, he joined Hitachi Global Storage Technologies as a Postdoctoral Researcher and continued on to become Research Staff Member in 2010 and Senior Research Manager in 2014. While in the industry, he worked on nanoscale magnetic field sensing devices and energy-assisted magnetic recording technologies.
Simone joined the Department of Electrical Engineering and Computer Science in the Lassonde School of Engineering at York University in 2014 as Associate Professor, and served as Graduate Program Director between 2018-21. His research is aimed at exploring transport phenomena in nanoscale devices & materials for energy efficient nanoelectronic device engineering. He is Senior Member of the IEEE, and member of the IEEE Magnetics Society and the Materials Research Society. He has authored over 50 refereed journal articles with over 10,000 citations and 12 US patents & applications. He received the University of Toronto Fellowship in 2002-04, the Young Scientist Award at the European Materials Research Society 2007 Spring Meeting and participated as Outstanding Young Scientist at the 57th Meeting of Nobel Laureates in Lindau, Germany. Simone is a licensed Professional Engineer in the province of Ontario.
List of publications at Google Scholar